A truly inspiring pioneer
06-Feb-2021
Words by Trevor Williams and Peter Bergin (senior clinicians at The Alfred Hospital) memorialising the passing of colleague Don Esmore AO in an article in the Sydney Morning Herald, February 22, 2013

He inspired a generation of young cardiothoracic surgeons and many healthcare professionals with his drive and ability.
Internationally renowned, and highly respected, Professor Don Esmore was Director of the CJ Officer Brown Cardiothoracic Unit at the Alfred Hospital when he passed on 12 February 2013.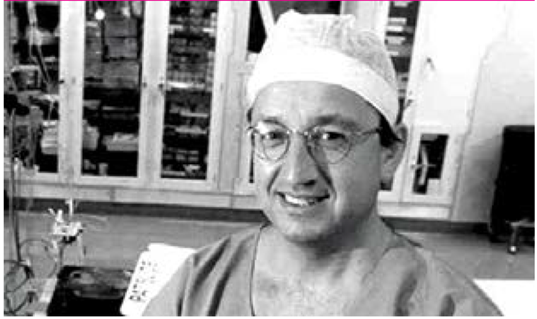 His was a life of incredible achievement and deserved honours. He was a professor at Monash University, an officer of the Order of Australia, and a recipient of the Prime Minister's Centennial Medal.
He is remembered for his peerless surgical skill, clinical acumen and quite extraordinary instincts.
On completing high school he went straight into medical school at the University of Melbourne and graduated as a bachelor of medicine and surgery (MBBS) in 1973.
He worked as an intern, resident and registrar at various hospitals, including Preston and Northcote Community Hospital, Prince of Wales, Wollongong and Sydney.
The path to a professional life in cardiothoracic surgery began when he moved to Sydney's St Vincent's Hospital as a cardiothoracic surgical registrar, gaining his fellowship of the Royal Australasian College of Surgeons in cardiothoracics in 1983, then a fellowship of the Royal College of Surgeons of Edinburgh in cardiothoracics in 1984.
An 18-month fellowship at Papworth Hospital in Cambridgeshire followed, and he also travelled through North America to gain further experience, returning to St Vincent's Hospital as a staff cardiothoracic surgeon.
He was pivotal in the renaissance of cardiac transplantation led by Victor Chang, and was a key team member in the first heart-lung transplant performed at St Vincent's Hospital during that period.
In 1988, The Alfred hospital in Melbourne was chosen to run the second national cardiothoracic transplant program, and in early 1989, with great support from the Alfred's administration and clinical staff, Don got straight down to business. After only a few weeks, Don performed the first heart transplant in this new era of transplantation at the Alfred.
Remarkably, he performed 30 consecutive heart transplants without an early death – an epic feat.
A year later, in March 1990, he performed the program's first heart-lung transplant, utilising the recipient's heart in a second recipient - the first ''domino'' heart-lung transplant in Australia.
Many innovations followed, including single-lung transplantation in 1990; double-lung transplantation in 1992; and long-term support and retrieval using then-evolving technology allowing advanced life support where mechanical ventilation failed - so-called extracorporeal membrane oxygenation.
By 1996, the Alfred team was performing the most lung transplants per head of population in the world.
Don's passion to use every heart and lung donor, even those that others perhaps regarded as marginal, was pivotal in this achievement. Donor retrievals from Perth, Darwin and New Zealand often pushed the ischaemic time (the period without blood supply) to the limits of conventional wisdom and often beyond, especially where it was recognised the planned recipient had only a very short time left to live.
Despite often extending well beyond the then accepted criteria, he achieved superb outcomes.
His team was encouraged to innovate. Early on in the Alfred program, Don recognised the need to increase donor heart utilisation, just as he later did for lungs. He performed heterotopic heart transplants (piggyback hearts) to allow smaller hearts, previously discarded for lack of a suitable recipient, to be used in selected patients.
His surgical team assessed many modified lung techniques, including anastomotic (joining) techniques for lung transplantation, and approaches to cut down lungs to fit smaller recipients, particularly children. In 2011, the Alfred was awarded Nationally Funded Centre status for paediatric lung transplantation.
One of Don's great professional love was artificial heart technology. He recognised that donor numbers would never be enough to service the growing needs of end-stage heart-failure patients. Not only did he embrace existing artificial heart technology, but his great expertise in ventricular assist device support led him to a pivotal role in the development of an implantable left ventricular assist device (LVAD) called the VentrAssist.
He personally performed more than 10,000 open-heart surgeries. He has inspired a generation of young cardiothoracic surgeons and many healthcare professionals with his drive and ability. His clinical acumen was extraordinary. He made observations and decisions well ahead of others who would only understand the astuteness of his plans and therapy well after the patient was in recovery.