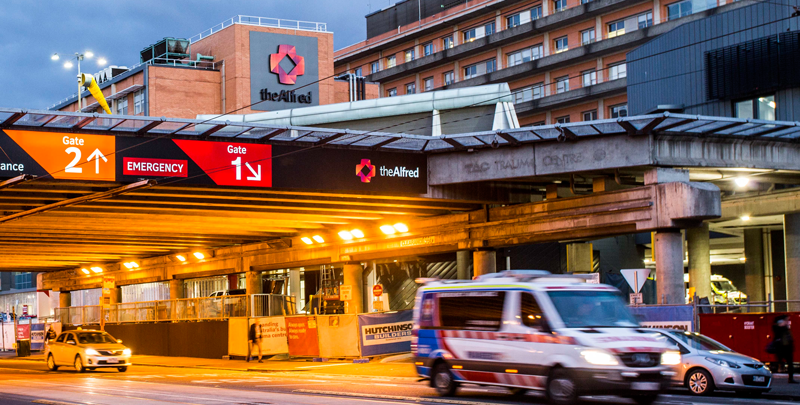 Services

We provide lifetime care for all Victorian transplant patients as well as heart and lung transplant services to a catchment are which includes South Australia, Tasmania, southern NSW and Norther Territory. We have also performed heart and lung transplantation to patients from Queensland as well.

Lung transplant is offered to patients who have severe lung disease for which other treatment options are no longer adequate. The Alfred on average assesses two to three patients every week for a possible lung transplant.

The most common diseases which result in the need for a heart transplant are coronary heart disease and cardiomyopathy.

Our multi-disciplinary team includes physicians, occupational therapists, physiotherapists, social workers, dieticians, transplant clinic nurses, surgeons and anesthetists.
Heart and lung transplantation
The Alfred's heart and lung transplant program commenced in 1989. Since then, many Victorian and interstate people have received life-saving heart and lung transplants.
In 2019, we performed 83 lung transplants and 28 heart transplants, giving many recipients a second chance at life.
Lung transplant
Since commencing in 1990, our Lung Transplant Unit has provided life-saving surgery to over 1,200 patients.
Heart transplant
Since 1989, many lives have been saved, with more than 600 heart transplants completed.
Paediatric lung transplant
The Alfred has the only dedicated Paediatric Lung Transplant Service in Australia. We have looked after children who have advanced lung disease from across Australia and New Zealand and results have been excellent. We transplant one to four children each year.
Ventricular Assist Device program

The Alfred's Ventricular Assist Device program commenced in 1990, only one year after Professor Don Esmore began the Heart Transplant program. The first generation of mechanical heart pumps implanted were 'pulsitile flow' devices that were very large (the size of a washing machine) compared to the miniature 'continuous flow' devices used today. Most patients who need a VAD require a pump for the left hand side of the hear only (LVAD). Rarely, some patients require two pumps, one for the left and one for the right, called a BiVAD.
Since the early days there has been a steady increase in growth of VAD numbers implanted each year as the newer generation devices have become more reliable and safer.
Teaching and education
Getting healthy and back to day-to-day activities is a major focus for our transplant patients.
We provide our patients with a range of education sessions and materials both pre and post transplant to maximise their ability to reach their individual recovery goals.
Research
Our commitment to excellence is ongoing, and we are constantly engaging in new research and trials to seek the best treatment for our patients.
Source: The Alfred Hospital website