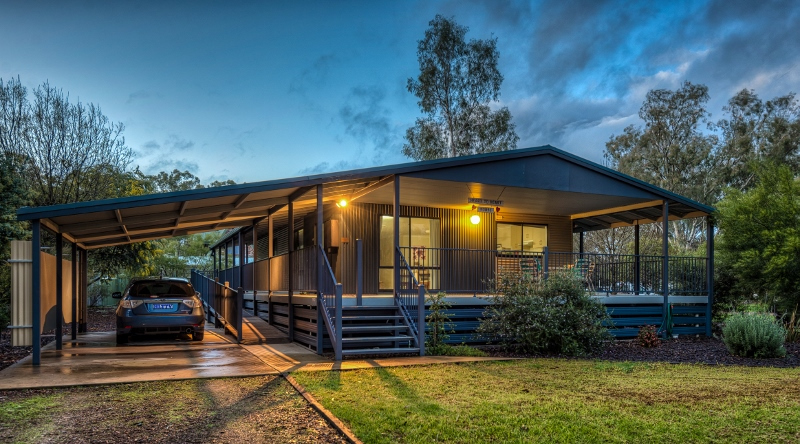 HLTTV supports and is grateful for the Heart to Heart Respite House Inc. who maintain a respite home in Barmah, Victoria, for use by pre and post heart and lung transplant patients and their carers to have a place to rest, recuperate and recover. Even years after a transplant the need to get away for a relaxing, quiet break is still very important.
Barmah is a small Murray River town located 230km north of Melbourne and 36 km north-east from Echuca. It is best known as the gateway to the superb Barmah State Forest which contains the largest red-gum forest in the world. There are bush walks and drives, fishing, wetland cruises, post office and store, take-away food, two shops and counter lunches at the hotel. The historic city of Echuca is only 36km away.
'Heart to Heart Respite House' is fully self-contained and equipped with everything you might need. Just bring clothes and food, your linen (if not hiring) and you are set for a relaxing time. The house is available for up to six nights respite in any one booking.
'Heart to Heart Respite House' has a nominal cost of $10 per adult per night, up to maximum of four adults. Animals are not allowed at the property. There is a 'Donation Box' is available of visitors wish to make a further donation.
Occupants use the Respite House at their own risk. Neither HLTTV nor Heart to Heart Respite House Inc can provide any emergency medical assistance to occupants. Neither HLTTV nor Heart to Heart Respite House Inc accepts any responsibility to provide health care to occupants. Any guests fitted with an electrical assist device are unable to use the facility for safety reasons.
For more information go to www.hearttoheart.org.au
For bookings contact Martina McArdle on 0409 957 492