Joe Ferraro's amazing fight
Joe Ferraro was so keen to help out that he came along to a HLTTV committee meeting while in hospital and only days after his lung transplant. He would keep up-to-date via email and through his friendship with Vice President Claude, but sadly he wasn't able to make it to another meeting.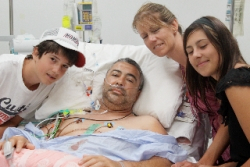 This is a story where many things went wrong as they sometimes do despite everyone's effort and intentions. It is also a story that clearly displays Joe's tenacity and strength equally matched by that of his wife Sonya and family. Our thanks for sharing their story with us all.
Joe's long journey first started when he was diagnosed with Sarcoidosis in 1992. This disease was very rare at the time and the doctors were trying different medications and a lot of tests, which really didn't seem to help much.
Joe was 28 years old and enjoying his life. He was an electrical contractor and was self employed. Both Joe and I ran the Company, put in a lot of hours and enjoyed working together. Joe worked hard early in life and created his wealth. He always said "If I can't enjoy myself, why am I working?". Joe loved life, he loved his friends and he loved to talk.
He could start a conversation with anyone (sometimes you couldn't get a word in) and he would love a debate... or was it an argument?? He just had that personality that touched you.
Joe, Sonya, daughter Natalie and son Greg - we were always together as a family. We enjoyed camping, snow ski-ing, water sports. Joe was an active pistol shooter (club) and scuba diver. Joe and I were inseparable. Nothing was beyond his reach, he set out to do something and he would do it. He had that get up and go spirit.
We would go away with friends. We had an amazing trip with our good friends driving to the Northern Territory. Joe walked and did everything with us but we could see that he was struggling. We slowed our pace, but he wanted to see everything - he was very determined.
Our trip to Las Vegas was equally amazing, but the heat there really knocked Joe around. He couldn't really cope and we did most things indoors. We bought a ski boat and had a lot of fun on it. Then we bought a cabin cruiser and would take trips to Rye with the kids and stay on the boat. Joe bought himself a Porsche 911. He really loved his Porsche. He said cruising in his Porsche just made him forget his pain.
As the years went on Joe was noticing that he was getting breathless so we saw the specialist (Abraham Rubinfeld) and he increased his prednisolone. Joe was not happy, he gradually put on a lot of weight, but that didn't stop him. We started exercising, the kids walked with him but it didn't last long, Joe was exhausted. We slowed down with work and our social life. But that wasn't going to stop him.
We would entertain at home, if he couldn't go out, we would bring everyone home. Joe loved a BBQ and a good drop of red - he chose his wine carefully. Joe was always saddened by the fact that he never had the chance to play footy or soccer with his son like other dads did.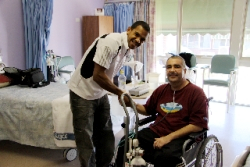 The year 2000 Joe had collapsed and was taken to The Royal Melbourne Hospital. After some tests, the results of his Sarcoid were severe, his lungs were scarred and his breathing was shallow. The specialist organised oxygen at home, he was monitored very carefully. He didn't want to stay in Hospital so he came home, his family meant everything to him.
Approximately 2005 Joe was sent to The Alfred to see the lung specialist (Glen Westall). After a few tests he said that Joe was a perfect candidate for a double lung transplant but he needed to lose the weight, no help to prednisolone. Joe's weight was at 100kg and he needed to be down at 87kg to be put on the list. We closed the business and I became Joe's full time carer.
We tried very hard to get the weight down, it was a real battle, we ate healthy food, Joe tried to exercise but was out of breath. We were really scared. Joe seemed to be getting worse each month. One year later he was still over the goal weight, his oxygen intake was greater and his daily activity was less. The kids would work with Joe and tried to keep him active.
Months went by, another year went by. It was a struggle for Joe to walk from the front door to the car, he couldn't hold a conversation for more than 3-5 minutes, he was just out of breath. I felt every second of Joe's pain but I wasn't going to show it. Joe's care was my first priority and there was nothing that I wouldn't do for him. Joe was looking weak, his skin colour was very pale and he was struggling to breathe.
At the end of October 2008 Joe was put on the transplant list. It was a relief and also a shock. In December Joe was told that he would only have a few months to live. Panic set in. I could see Joe deteriorating. But that wasn't going to stop him, he bought a seadoo (jetski). We made jokes and said he would put the oxygen bottle at the back, turn on the turbo and shoot off like a rocket. He loved his toys. He would stay on as long as he could and come back in. We were out with friends and that's what he loved.
January 29, 2009 at 4.15am we got this amazing call that Joe will receive the gift of life -a set of donor lungs. We were all in shock. Joe was shaking. I quickly got the kids up and made our way to The Alfred. Joe was being prepared for surgery. We were very confused and didn't know what to think. Joe went off to surgery. He was very scared; you could see it in his face, but I encouraged him to be positive because I knew we would see each other in a few hours.
After Joe's surgery his recovery was very quick. He sat in a chair the next day. He was in ICU for 3 days and then up on the Ward. The first thing I noticed was the colour in his face. It was amazing, he looked so healthy.
Of course he was chatting to everyone that came by. Now that he could breathe he could talk for hours. There's no stopping him. We are so grateful to the donor. This is truly a gift of life. The staff on the Ward are amazing, caring, specialised people.
Joe has been very emotional. The thought of the donor dying and him receiving a part of someone is very hard to accept - but he will get through this, he is very determined and strong. We will get through this together.
Joe has had a setback with his sternum separated and a suspected stroke. He had to stay in hospital a few more days. Joe is back home and feeling great, no oxygen, no shortness of breath. We are being careful with the food handling and freshness, exercising every day, feeling amazing. I've got Joe back.
I'm grateful for every breath that Joe takes without struggling. Well he's at it again. Joe bought a caravan at Lake Eildon. He just couldn't help himself. This was in April. It needs a bit of work but he said he was happy to get back into it. We started some work on the roof with the help of friends and family. As usual Joe thought he was superman and fell off the ladder, not once but three times. Just as well he had a laugh about it.
The following day Joe and I went up there and finished off the roof. Almost finished, Joe stretched out along a plank and said to himself "I better not go out too far" and tipped over. He was hanging on the top rafter and then realised that he may separate his sternum, so he let go and grabbed the next rafter and was closer to the ground and dropped himself down. I watched the whole thing and I told him he looked like a monkey swinging on the trees. He said all he could think of was where the nearest hospital was.
Joe had some setbacks in Feb/March. On 28 Feb I had to take Joe back to The Alfred. He had severe abdomonimal cramps, vomiting. After many tests the only thing found was a bit of infection treated with Amoxyl. Joe came home on 23March.
On 31 March Joe had a Bronchoscopy and was admitted with lung infection. He has become very depressed and the sleepless nights don't help. He is not coping in hospital. He is home on 3 April, still has a picc line and the Home Care Nurse is coming home every second day.
Joe just had to get back on the jetski. We all went and had a great day. Well it's been 3 months and still some little problems. The biopsy found a couple of spores of Sarcoid in the new lungs but Greg Snell assured us that he is not too concerned about the find. This is really frightening, Joe received a 99.9% match, this can't be happening again.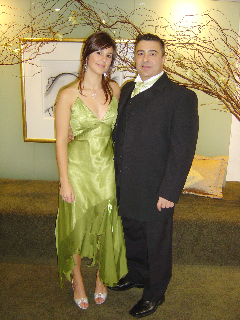 On Monday 25th May Joe went in to The Alfred to have his hemorrhoids surgically removed. The following day he was not well, he was in a lot of pain. Wednesday he was even worse, severe pain and having trouble breathing, he was med called and in distress, they put the bipap on to help with his breathing, his oxygen level went down to 70 and his pulse was up at 130, he is feeling the pain of struggling to breathe. I stayed with him and watched the monitor all night. I was very frightened.
Thursday Joe was not any better, the ICU doctors took him down where he could have 1 on 1 care. I got a call Saturday morning saying they had to intubate Joe, he was actually asking for it, he knew his body couldn't cope with the struggle.
The ICU Doctor came to see me and said that Joe is the sickest person in ICU. He thinks he may not make it. Joe is dependant on the machine to breathe, he has blood clots on his lungs but they don't know what else is going on. His heart rate is up at 190, far too high, he has 13 bags of medications running through him.
8/6/09 - They have implanted a filter in the main artery, this is to stop any blood clots travelling up to his lungs. He has been weaned off the Nitric Oxide, this helped expand his lungs and get rid of Carbon Dioxide.
The look on Greg's face when he first saw his Dad, I will never forget. His eyes filled with tears the look of shock, he turned to me and said "is Dad on his death bed", I will never forget that look of fear on his face. I have never been so scared in my life, I stay very positive but it's very hard to see someone I love in that condition. Why does one person have to go through so much pain, I just want him back recovered.
15/6/09 - Joe had major surgery, life saving surgery they told me. This isn't supposed to be happening. He has Diverticulate Disease, a part of his bowel was cutaway.
17/6/09 - Joe was gently waking from his induced coma. It has been 3 weeks since I last saw his eyes. He has swelling in his hands, knees, feet and around his eyes. Joe has a trachi in his throat, he can't talk, he has some pain in his stomach. He doesn't remember what happened, they said he may have some short term memory loss. He can't move his body, he has lost all of his body mass. His arms and
legs are so thin.
The breathing support has been reduced and he is getting better slowly. On 27 June after 4 weeks in ICU Joe is up on the Ward. He still has his trachi and gastric tube and is aware of what is going on and is anxious to get all the tubes out. I'm staying in Hospital with Joe.
I spent 6 weeks with Joe, he had no movement, everything had to be done for him. Joe was always apologising that I had to be nursing him, he was very emotional and often said that he can't believe a 45 year old man has turned into a baby. There was a lot involved in caring for Joe. Our wonderful kids were home, looking after themselves. I missed them so much, they are truly amazing kids. I am so proud of them and Joe was very proud of how brave and strong his kids were.
There were a lot of moments when Joe just had enough and didn't want to suffer anymore, but I just kept on working with him. He was depressed, frustrated and not sleeping. He wanted to go home.
3/8/09 - Joe was becoming more and more anxious. He was on anti depressants but it wasn't working. He was becoming very lethargic and his breathing was very shallow. The ICU Doctors decided to send him down to ICU again. Joe was very scared, they said if he was to stay on the Ward, he would not last the night. Joe's CO2 was up very high.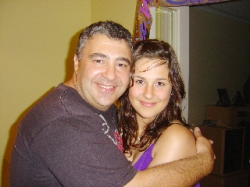 Before Joe was intubated he said that he was really scared and he could feel himself slipping away. I waited for the results of the Bronch and l was told that Joe's lungs were very stiff and he is only getting 250ml of air pushed into his lungs. He said that Joe's lungs are very sick and he's not very positive of his outcome, he is very worried that his lungs won't respond to any treatment.
Joe was given 1000mg Prednisolone, the Doctors are very worried that Joe's body won't be able to take much more, there is a lot of strain and stress on his body. The kids were really upset and we reduced to believe that there is little hope for Joe. We know he is a fighter and he knows he has a lot to live for.
It's just not fair. Joe has a trachi and can't speak. He is using the letter board to communicate. He said that he was afraid that he was dying, he can feel that he is not getting any better, his progress is very slow. He gave me some instructions in case the worse happened.
11/8/09 - Joe came up to the Ward, his trachi out and his recovery starts again. He is off all medication except his anti rejection. Joe still has his movement and Physio are coming up to work with him. Physio has got Joe up and walking with the frame, his balance is not great but it's a start, each day I know he will get stronger. After one week, Joe is ready for rehab, we are just waiting for a bed.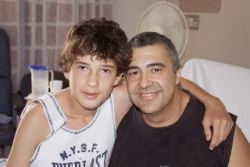 19/8/09 - Joe is going to Caulfield Rehab for intense exercising. He will be up and running in no time. Joe is walking at the parallel bars and lifting some weights but that is all they can do for him here. Joe's heart rate is far too high and saturation drops too low for them to push too much. Joe is in a wheelchair and needs help in the shower, shaving, dressing and eating. This is not what I expected.
14/9/09 - Joe came home and is much happier. Joe sits in his favourite green chair and has his brother over to watch the footy - he has a special bond with his brother. It's so good to have dinner together with the kids. There's a lot of work to be done but to see Joe happier at home makes it all worth it.
28/9/09 - Joe has a Bronch and lung function. The results were not good, there is a lot of scarring of his lungs and he only has 19% lung function. We are devastated, he just wants to go home. We knew that this was not good. He has been put back on the transplant list. There is nothing else they can do.
This is worse than we thought, what went wrong, how can this happen. Joe had his friends and family around him every day. He is finding it very hard to breathe.
On 6/10/09 Joe told me he does not feel right, he stayed in bed and rested, the following day he was much the same.
On 8/10/09. I called the ambulance to take Joe into hospital, he still wasn't feeling well. The staff at Emergency said that Joe's CO2 was up at 70 and it needed to be reduced with the bipap, but Joe couldn't tolerate it for long periods so we tried for as long as he could with breaks in between. His CO2 was still climbing. The staff were confident that with constant use of the bipap his CO2 will drop, so I convinced Joe to keep it on for as long as he could.
We had a conversation through the night and he looked OK. I asked him how he felt and he said "I feel good". I was leaving at 11.30 that night, the staff said that once the CO2 clears that Joe would go home, so he asked me to bring some things for him in the morning when I come in to pick him up.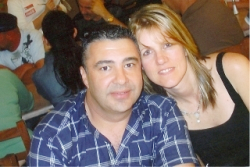 Before I left he held my hand and said I'm really scared that I'm back in hospital and I said to him, don't you worry, they haven't given any indication that you need to stay, so I will pick you up in the morning. He squeezed my hand and said "apart from my illness, I wouldn't change anything in my life, we have got something very special, no one has what we have, you are my rock".
I received a call at 6.30am. I knew it was The Alfred. A nurse said that they were taking Joe to ICU and he may be intubated. I was up and on my way to The Alfred. On the way I received another call to say that I need to get there quickly because Joe is dying, my heart was ripped out of my chest. I was confused and in disbelief, when I got there Joe was unconscious and on the bipap.
There was nothing they could do. His CO2 climbed to 130 and there was no way back. The love of my life is dying in front of me and there's nothing I could do. Joe took his last breath at 11.23am on 9/10/09. This was the day that I became heartbroken, my life will never be the same.
The kids are a combination of Joe and me, a tower of strength, but losing their Dad has absolutely crushed them. The one thing that really hurts is seeing my 14 year old son carrying his father's casket. We have many amazing memories together and I know Joe has touched a lot of people's hearts. He will be missed by many.
The support from our friends throughout this time was amazing. Our love is with you forever.
Sonya Ferraro