A day in the life of Indra Gramnea - Donation Specialist Nursing Coordinator
10-Jan-2021
Each year thousands of Australian lives are saved and transformed through the generosity of organ and tissue donors and their families. While the majority of Australians believe it's important to be an organ and tissue donor, only one in three are registered. DonateLife Victoria encourages more Australians to register to be an organ and tissue donor, and to have a chat about it with their family and friends.

In this edition, we speak to Indra Gramnea who has been a Donation Specialist Nursing Coordinator with DonateLife Victoria since 2017. Indra talks about her unique role, working hand-in-hand with donor families during their time of grief.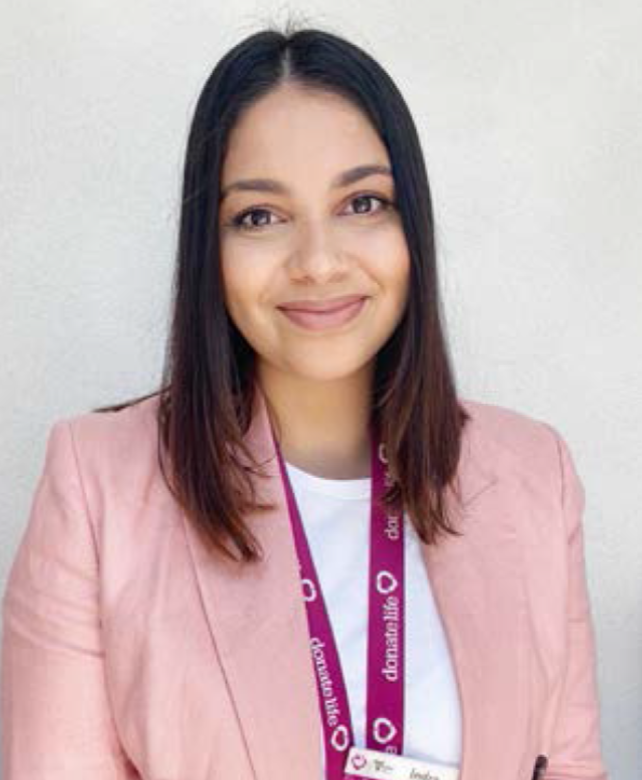 Why did you start working as a Donation Specialist Nursing Coordinator?
Having worked as an emergency nurse for many years, I cared for many patients and their families during very devasting times in their lives. I always valued the time I spent with families at the bedside and being able to provide the best end-of-life care for my patients.
Working as a Donation Specialist Nursing Coordinator has allowed me to continue to care for patients and their families and offer them something positive through the gift of donation at a time of sadness and loss.
Please take us through a typical week at work...
There isn't really a typical week in my role because of the spontaneous and diverse nature of my job, but usually a week at work would comprise taking referrals, discussing organ and tissue donation with families of patients who are at end-of-life care, coordinating donation cases and completing hospital-based work, which may include conducting education sessions for staff, portfolio work, and auditing.
What do you enjoy about your role?
What I enjoy most about my role is coming to work every day and making a difference to the lives of others. It is a privilege to come to work every day and meet so many amazing, generous families who think of others at such a challenging time in their lives.
What would you say to other people thinking about entering this stream of nursing?
The role I work in is extremely rewarding. It is such a nice feeling to be able to go to work every day and advocate for patient's wishes and know that there are people who will receive life-saving transplants as a result of generous organ donors, their families, and our work.
Are there any myths about organ and tissue donation you would like to dispel?
One myth I've heard from people is that once you've registered to be an organ and tissue donor you don't need to discuss it with your family. The truth is that it is very important that people discuss their decision about organ and tissue donation with their families because your family plays a crucial role in the donation process and supporting the decision to be an organ donor.
It takes less than a minute to join the Australian Organ Donor Register (or to check your registration) at donatelife.gov.au.
All you need is your Medicare card or register by calling 1800 777 203.