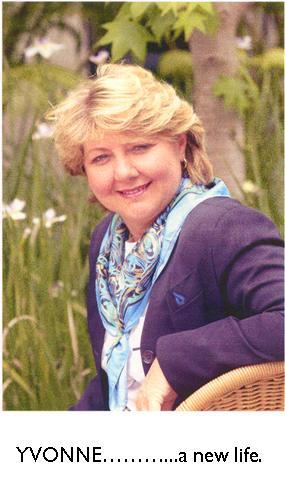 PLACE OF BIRTH: Mount Lawley, Perth, Western Australia
MARITAL STATUS: Divorced
TYPE OF TRANSPLANT: Double-Lung, at Age 43
WHY WAS YOUR TRANSPLANT NEEDED? Alpha-1 Anti-Trypsin deficient ZZ Phenotype, diagnosed when I was aged 32
WHEN WAS YOUR OPERATION? 6th. September, 1999
ARE YOU WORKING; WHAT AT? Yes, I am working at the Water Corporation in WA, as a Project Officer in Finance & Revenue. I was very fortunate that the Water Corporation were so supportive that I was able to take leave without pay - for 2 years!! Psychologically this was a huge relief, knowing I had a job waiting for me after recovery.
WHERE WERE YOU WHEN THE 'CALL' CAME? I was asleep when the call came, at 6.00 am on the Monday. Anne Griffiths (Coordinator) said "Good morning Yvonne - we have a pair of lungs for you, please come to the Hospital by 7.00 am!" I telephoned my children in Perth ( where it was 3.00 am ) and some friends, put on a load of washing so that there was nothing for Nicole and Grant to do when they arrived, went to the bank for some money, then to the Hospital.
I arrived at the Alfred at 6.45 am, where Anne was pacing the floor, asking where I'd been– I had not realised she'd meant as soon as possible, so that I'd be in the theatre by 7.00 am!!
That night I seem to have had a premonition that the next day would be very important, it had been a Beauty Night – manicure, hair-wash, blow-dry, leg shave, under-arm shave, the works! Also I was very restless, almost as if my body knew something was going to happen.
I felt so confident! No more to be seen with the oxygen – I had already organised my oxygen-concentrator and cylinders to be collected from my house in Richmond, where I'd been for nearly 12 months ( in fact my total stay in Melbourne was 15½-months.)
THE HARDEST THING I'VE HAD TO DO: Leaving my children, aged 17 & 18 years, in Perth , to look after our home and pets, and fend for themselves with very little support.
My daughter is completing her University Degree in Media Studies and Mandarin Chinese, and my son is an apprentice plumber. I needed to trust that everything was going to be OK, and to rely on others to do things for me. I also had to rely on them to understand my pre-transplant feelings. BUT being a telephone Mum was the hardest thing of all!
FAVOURITE COUNTRY: It has to be Australia! However, I have always dreamed of visiting Scotland – the place where my Grandmother was born: Campbell Town. I have been to Phuket, and I enjoyed Thai people very much.
FAVOURITE FOOD: My favourite food is stir-fry and noodles. Unfortunately, my passion is Chocolate!
WHO INSPIRED YOU WHEN YOUNG, AND WHY? My Grandmother, and my Father both inspired me when I was very young. Nanna was a real battler, and her life was tough. She was widowed at a young age, and left to raise 10 children, alone! She succeeded in life, in her own way, and she was my best friend. My Dad was a very popular person and never had a bad word to say about anyone. He was a talented sportsman, and a real family man. He always found the happy side of life.
MOST MEMORABLE MOMENT: My most memorable moment was seeing my Mum, Stepfather, and Children in the ICU, when I was regaining consciousness after the operation. It was about 5.30 pm, and I saw my Mum's coat first (burnt orange, very blurry) then my stepfather's black-and-white checked shirt. They both left, realising that only two visitors were allowed at your bedside at one time in the ICU. And then the children came in, all the way from Perth, and sat both sides of me, each with quiet tears trickling down their cheeks. Tears of happiness, I might add, that it was all over, and that I was trying to converse with them (using sign-language, because I had a ventilator to assist my breathing). I asked them whether someone had pegged out the washing I had left in the washing machine – I must really love housework, to think of it at a time like this - I had failed to realise that they had just come straight from the Airport!! Of course, no-one thought of giving me pen and paper, so I was drawing letters in the air, and they were guessing the words.
At 9.30 pm that evening the ventilator was removed. My Perth GP's rang at 9.45 pm, and were advised by the nurse that I was doing well and that they could talk to me, and talk we did, and shared some emotional tears – they were absolutely amazed that I had recovered to that extent!
A FUNNY/EMBARRASSING MOMENT REGARDING MY TRANSPLANT: The funniest and most embarrassing moments occurred under the influence of drugs. I believed I'd become a Millionaire, and gave my money away to everyone who had helped me in my life. I remember asking the nurses and the orderly to take down some notes, and made a request that my girlfriend was to receive a large sum of money to put in a Trust for the Polio Society. I also bought and sold some property near my home, in Mindarie – not one or two blocks, but the whole estate!!! I made up a song about myself, and sang it out loud so everyone could hear. My children, Nicole and Grant are still laughing about the funny things that happened in the 17 days following my transplant.
In the end, however, like all of us Tx-ers, and apart from the significant, or the embarrassing personal memories, and that is the thought of the Donor family, and of how huge a difference they have made.
I am eternally grateful to them all.
Heart & Lung Transplant Foundation of Western Australia
The foundation was formed in 2004 by Yvonne Bali, who champions this worthy cause, as she would not be alive today but for her lifesaving double lung transplant surgery, which took place in September 1999 at the Alfred Hospital in Melbourne. It was during this experience that she decided that more could be done in the area of heart and lung transplantation and the diseases that lead to it.
When on the road to recovery, she met with WA builder Garry Brown-Neaves of Webb & Brown – Neaves the Home Builders - which was the catalyst that enabled the Foundation to be established. He was so compelled by Yvonne's story that he decided to build a charity home, with proceeds from the sale securing the Foundation's immediate future.
The emotional and financial hardship that Yvonne endured whilst based in Melbourne was the inspiration behind her campaign to establish a Lung Transplant unit in Perth - the first goal of the Foundation. The project came to fruition in November 2004 with the official opening heralded by the first lung transplant to take place in Perth.
The Foundation's Website is at: www.heartlungtransplantfoundation.org.au