What led to you needing a transplant? I was under the care of a senior respiratory physician at the Monash Medical Centre. I was diagnosed with emphysema and over a two year period my condition deteriorated. It was then I learned that I would need to consider the possibility of a lung transplant.

What happened next? I received a call from Delene at The Alfred about an appointment to see Professor Greg Snell. I was overwhelmed at the thought of entering into this more complex medical world because I had been healthy for most of my life. She was very reassuring that there was nothing to worry about.
What did you do while waiting for your transplant? After being accepted onto the Transplant List I was required to attend the gym at The Alfred three mornings each week, which I did for approximately nine months. During this period it was confirmed that I would need a single lung transplant as the earlier option of a possible lung volume reduction procedure was no longer a choice.

At the same time I continued to run my Real Estate business. Eventually it became very difficult to conduct the auctions because my voice became very weak, and I was experiencing acute shortage of breath despite the constant use of oxygen from the cylinder.

And how did you feel during this time? At first I felt very isolated but this was overcome by attending the gym regularly as well as the information sessions where I was able to interact with other pre transplant patients who shared similar experiences.

I remember one day when I was on the treadmill with my oxygen cylinder beside me just looking across to Fawkner Park seeing people walking around and saying to the Physiotherapist (Louise) "I wish I could do that one day". Her reply was "you will".

As time went on and with the medical carers providing reassurance, together with the wonderful support of my wife Nicole, daughter Natasha and son Darren, and becoming aware of the difference in pre and post transplant patients' health, my fear of the unknown was beginning to diminish. I was becoming much more confident about what was to hopefully happen.

Where were you when you were called? I was at home. It was around midnight and I was watching TV. Nicole answered the phone and said Anne Griffiths was on the line. I think I might have thought something along the lines of "Why was she calling at such a late hour, couldn't it wait until the morning!!!!" Of course previously I thought I would be very relaxed when the call came, but when it did I certainly wasn't!!!! It was 16 November 2002.

My first recollection after my operation was of breathing unaided - a wonderful feeling! To my surprise, I was told that I had undergone a double lung transplant operation.

By then I was well accustomed to so many familiar faces around the hospital and this was additionally comforting to me. It turned out that my son Darren, who is a musician and heads a string quartet, had coincidently just played at the wedding of one of the respiratory physicians. Perhaps I got some extra care.

Has your life changed since transplantation? My life has actually been enriched in many ways. After about three months I was able to return to my business which I really enjoy.

I have met many new and interesting people, many of whom I continue to enjoy their company or keep in contact by telephone, including some in Western Australia. I think it is good that we continue to support each other and I know my wife Nicole enjoys socialising with the other carers she met along the way, as well as watching the progress of all of us transplant patients.

What are your interests? I was quickly able to get back to enjoying all my past activities - theatre, movies, music, fine dining and wine (well a little), entertaining at home and of course watching the mighty Collingwood Football Club. I like to travel - but only to warm places.

Is there anything else that you would like to add? I feel humbled by the generosity of my donor family which has given me a second chance of life and the opportunity to enjoy my beautiful baby grand-daughter Kali (daughter of Natasha and Dean). I continue to have a fondness and the deepest admiration for The Alfred hospital and staff.

And finally

In gratitude I was moved to become an ambassador for LifeGift. An ambassador's brief is to draw attention to the need for more Australians to register as organ donors. I regularly speak to various groups and feel rewarded at being able to share my experience, and to hopefully develop an increased awareness amongst people of how lives can really be saved. Mine was back then in 2002.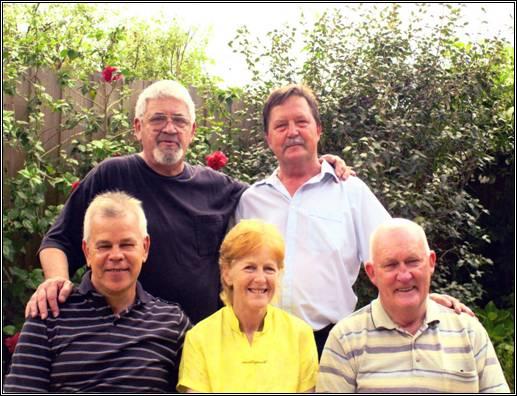 Len (back left) with some of his transplant friends
(all 4 year post transplant - lungs back row, hearts front row)

Photo taken on the day Len hosted a lunch for family and friends earlier this year - one of Melbourne's hottest days on record