My name is Andrew and I am 32 years old. It has been 12 months since my heart transplant and a lot has changed. My fitness is up. I'm not visiting the hospital half as much.
I am filling in my days with lots more activities e.g. walking my dog, swimming, riding, 10 pin bowling and working in the gym and even house work and mowing my own lawns! I went to the Australian Transplant Games in Perth in Oct 2008 and competed in the 5 km bike time trial 1 day before 6 months post transplant. I rode in the 40 km MS Ride around Melbourne.
I thought the riding was easy. I recently took part in the 24 Hour MS Mega Swim. I swam for one hour and then a half hour without stopping. Altogether I swam approximately 1.5 kilometres.
My goals have changed in the way of work and getting back to it. I am still working with Youth Services in programs on a casual basis. I work at 'Breakaway' which is a respite program for children and young adults with additional needs. Also I work at 'Just for Guys' which is a program for adolescent males on a weekly basis.
The 'Street Surfer Bus' is a program on Friday or Saturday evenings that takes a bus full of electronic equipment to different locations to encourage interaction with young people who want somewhere to go and/or someone to talk with. I would like my future to be working in the same field but to get more regular work hours because I have the energy to cope.
Now I'm looking forward to my next achievements. I don't think of them as challenges only as achievements of what I can do now! In August I am heading to the Gold Coast for the World Transplant Games. I will compete in 10 pin bowling, 5 km bike time trial, 5 km walk and swimming events. I am going with my father and brother to ride 100 km 'Around the Bay' in October this year.
My future is only up from here! I need to thank my Donor and his family, all those at the Alfred Hospital and my family for all the support. This journey would not have been possible without them and their help. Andrew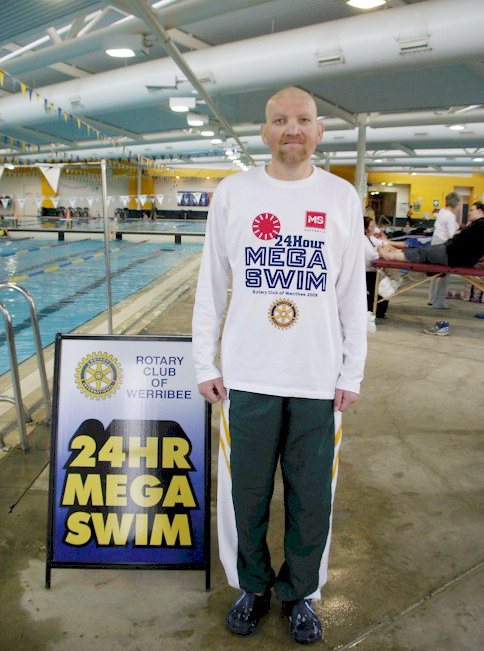 Around the Bay in a Day - October 2009
Around the Bay in a Day is a recreational cycling event organised by Bicycle Victoria.

Around the Bay was a great time. I did the 100 km leg of it. It was not as hard as I thought it would be.
There were some challenging parts of the ride like over hills and Arthur's Seat. But I did them without a problem. One of the harder parts was descending down the hills with cars and nothing to stop you from hitting the tyres of the other bikes while doing 45 km per hour.
The favourite bit was when I was about 30 km from the finish and I decided to see what this new heart of mine would do. So I did a 30 km time trial as I was trying to go as fast as I could. I felt so good when I finished the 100 km I still had enough energy to ride further!
Now I am waiting for next year when I will do the 210 km part of the Bay ride.
Andrew Cox – Heart Transplant (7 April 2008)