Q&A with Cardiothoracic Surgeon Julian Gooi
21-Dec-2020

Imagine being part of a team that gave a 6-year old the gift of breathing without an oxygen bottle for the first time in her life. Julian Gooi embraces collaborating on complex cases to achieve that and much, much more.
The thing that struck me from the moment I was admitted to ICU at The Alfred in 2017, and subsequently underwent VAD surgery, a long recovery and then a heart transplant earlier this year was the number of extremely talented people who had been there for a long time.
Being from Adelaide, I came to discover this place was no stepping stone, this was a destination. A gravitational force that attracted expert medical practitioners at every level of care. The best wanting to be among the best because that's when innovation really starts to take hold.
In this edition of Q&A you meet Julian Gooi, another long-termer in the Heart and Lung Transplant program who just revels in the complex and difficult... because that's just what they do. Solve problems that very few others can.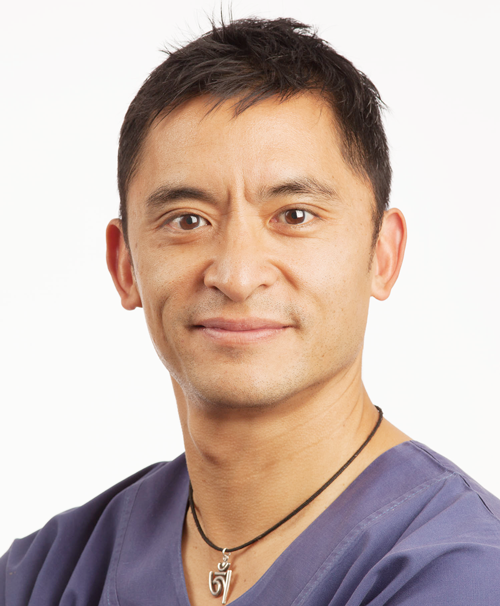 Do you remember when you made a conscious decision to make medicine your career path, and was there a particular person or event that motivated you?
I don't particularly remember any conscious decision to pursue a career in medicine but had an uncle that was a Doctor and also did work experience at the Royal Childrens' Hospital when I was in high school so I guess I must have had an interest in medicine.

As for surgery, I do remember when I was an Intern and resident liking the idea of having short term goals of surgery rather than being a physician. It seemed to me that with surgery, you focused on a particular surgical problem, worked out how you would solve or deal with the problem and then performed an operation for several hours.

At the end of this period, you knew whether or not it had worked. I liked these short term, focused goals rather than looking at patients charts and dealing with long-term chronic problems. I also definitely liked to do things with my hands.
When did you decide that surgical specialisation was something you wanted to pursue?
From a surgical specialisation perspective, I do remember being told by Cardiothoracic surgeons that I should consider it as a career and had some experience working for such units and liked the medicine and surgery. I also like the fact that, in a lot of ways, we are wholistic surgeons in terms of the fact that we also need to know and understand complex physiology and medicine and so can manage our complex patients ourselves. Very few surgical units do that.

From the point of view of pursuing Cardiothoracic and transplantation, I did most of my training here at the Alfred and have always liked the complexity of the problem and its surgery. It provides me with the opportunity to really make a difference to people's lives and is also a particularly unique speciality that only has about 30 surgeons around the country.
Can you give some examples of how technology or innovation has improved surgical techniques in lung transplantation in recent years?
We have made great advances in lung transplantation and 5-year survival has improved from around 50%/ 5-year to now almost 75%/ 5-year survival. This has a lot to do with the long-term and aggressive management by the Transplant physicians and the anti-rejection medications and the way in which they manage infection.
From a surgical perspective, the fact that we now very rarely split the breastbone to perform 'clamshell' incisions means that patients no longer have major problems with the healing of the sternum.

The advent of DCD (donation after cardiac death) donors has meant that the number of lung transplants that are performed has increased markedly and now we routinely do 90-100 transplants a year. 10 years ago we did 30-40.
We also have a new lung perfusion device that enables us to perfuse and assess donor lungs on a special machine (EVLP) that allows us to assess and rehabilitate lungs whilst on a machine prior to implanting them in a patient.
Lung transplantation outcomes have greatly improved during the last decade, where do you see the greatest improvements in the next 5 to 10 years?
Improvements in survival will continue to come from improvements and refinements in anti-rejection and antibiotic medications.

Also, the manner in which we assess donor organs and the ability to potentially give donor lungs medications or other treatments whilst on EVLP could mean that the donor organs that we implant are healthier organs.
What role has mentoring played in your career?
I am hugely indebted to my surgical mentors for guiding and advising me throughout my career. Without their support I would never have gotten to where I am today.
Has your Cantonese heritage been pivotal in your medical career?
I am very proud of my Cantonese heritage and my parents are very proud of my achievements. I suppose being migrants and of Cantonese heritage instilled in me a strong study and work ethic that is still very important to me.
What are some of the motivations that have led you to collaborate on research projects and articles?
Working in a multidisciplinary team is very important to me as it exposes you to different ways of thinking and also enables you to make difficult decisions about complex cases and patients.

Because many of our cases are difficult, have been rejected by other units or have many complexities, working in a team means that decisions are shared. This also fosters innovation and hence research.
The surgeries you do can be incredibly long and complex. What are some of the ways you balance your life outside work?
Yes, the procedures can be extremely long and complex and take up a lot of both physical and emotional energy.

Family is very important to me and it is great to be able to go home and shed the title of surgeon and become a Dad and a partner to my family. They are a very important way of grounding me. I do particularly like catching up with friends and family, love food and wine and also have a great weakness for vinyl records!
In a general sense, are there any lung transplant surgeries/patients that have particularly resonated with you?
I remember virtually all the lung transplants that I have performed over the last 10 or so years as each of them have meant that someone has a chance at a new life.

The paediatric lung transplant cases that I have been involved in have particularly resonated with me. I do recall one especially, as she was 6 years old at the time and had never been off oxygen in her short life.

We performed a lung transplant and the next I heard from her she had been off to Hawaii snorkelling with turtles! I recently caught up with her here at the Alfred and she is now a wonderful 12 year old going to school and enjoying life. That brought a tear to our eyes.
*************************************************************************************

Julian Gooi is a Cardiothoracic and Transplant surgeon who has worked at the Alfred Hospital for over 10 years. Graduating in 1996 from the University of Melbourne, he completed his Internship at the Austin Hospital before commencing training in Cardiothoracic Surgery. It was a two-year training placement at the Alfred Hospital that stimulated his interest in transplantation and complex surgery. In 2006 he completed a Fellowship in Cardiothoracic and Transplant surgery at Papworth Hospital in Cambridge, UK. He joined the Alfred Hospital in 2007 as a consultant. He has a keen interest in Thoracic surgery and lung transplantation.
*************************************************************************************