Q&A with Cardiologist Dr Angeline Leet
21-Dec-2020

My personal experience as a patient under Angie's care at The Alfred was complete confidence and 100% buy-in to her advice. Her calm demeanour belies a steely determination to succeed. Every patient. Every day. Editor
There are many people who walk the corridors at The Alfred that make a strong impression when you meet them. They have a particular empathy that defines their approach to communicating with their patients that sets them apart from others.
In this edition of Q&A you meet one of those special people – Dr Angeline Leet, the Deputy Director and Head of Echocardiography in the Department of Cardiology. She is a full time cardiologist in the Heart Failure & Transplant service at The Alfred.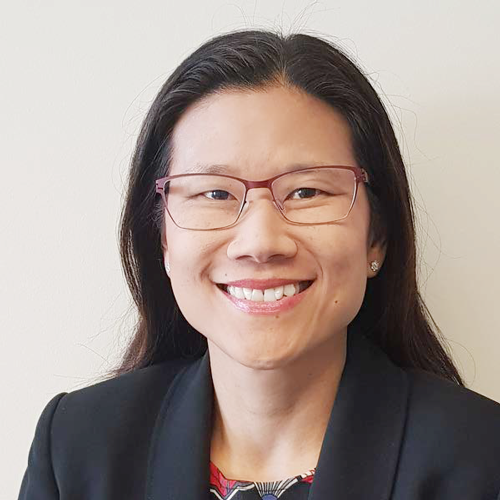 Do you remember when you made a conscious decision to make medicine your career path, and was there a particular person or event that motivated you?
I decided I wanted to be a doctor when I was 9 years old. My father had cancer and post treatment, recurrent headaches. I tended to him and helped him feel better. I liked helping anyone who was unwell and this grew over time.
When did you decide that a cardiology specialisation was something you wanted to pursue?
I loved everything I did in medical school and in my clinical rotations as a young doctor. I was going to be whatever specialty I was attached to at the time. It was only during a rotation in Cardiology as a resident, when I accompanied a patient to the catheter laboratory and saw the immediate effect of life-saving coronary angioplasty that I was completely swayed to Cardiology. Little did I know then that it was only a "tip of the iceberg" part of the patient's problems.
And more recently Echocardiography?
Echocardiography to me represents a fabulous jigsaw puzzle of a problem, waiting to be put together and solved. Everything you need to help diagnose a patient's cardiac condition is right there in front of you. More recently, as the Head of Echocardiography, helping our wonderful echocardiography and physiologist team optimise the Echocardiography Service at The Alfred has been a deeply enriching and learning experience. I love learning new things, new concepts, new approaches to bringing out the best in people – staff members, colleagues, and patients. This new role has given me all that.
What was the pathway that brought you to The Alfred?
I always felt there was more to managing heart failure during my early training years. As the Echocardiography Fellow at The Royal Melbourne Hospital, after I finished my Cardiology training, I met a Cardiologist who had spent time with the Heart Failure team at The Alfred and recommended I make contact with the team. I've stayed ever since.
You have a special interest in ventricular assist devices. What led you to this focus area?
Ventricular assist devices are an essential management option for patients who otherwise might not have survived to heart transplantation. My particular interest stems from the detailed knowledge required about the devices to best optimise the patient's clinical status. Helping the patient and their family transition to independent living with a ventricular assist device and be the best they can be in readiness for heart transplantation remains one of my greatest joys.
I have heard about wi-fi VADs and 3D printed hearts in media discussions. Do you have an insight to the future direction of VADs and Transplants in Australia?
Wi-fi and totally implantable ventricular assist devices are coming. Great research continues in this field. It will be at least 5 years away, however. 3D printed hearts – we're not quite there yet.
Has mentoring played a role in your career?
Absolutely – I have had great mentors throughout my career, who have guided me to be the clinician and person that I am. I continue to grow as a clinician and person because of them. I hope to help more junior clinicians as I have been helped and guided.
What are some of the motivations that have led you to have a particular interest in paediatric cardiology and involvement in the Young Adult Heart Transplant Transition Clinic at The Alfred?
Adolescence and the transition from paediatric to adult care is a daunting time for patients and their families, who have literally grown up being managed by a small paediatric cardiology team, who they have trusted over the years. We know the outcomes of young patients who are not adequately guided and managed through this time are poor.

It is a time of fluctuating relationship dynamics, developing more independence from parents, new jobs, and therefore needing to learn to manage their own medical conditions.

I really enjoy forming relationships with them and have them trust me over time, to help them navigate this potentially difficult period. Seeing the patients thrive, manage their medical conditions, medications, appointments independently over time fills me with great pride in their achievements.
You must see some incredibly challenging cases, in a general sense can you give an example of any successful outcome that may have surprised you?
We managed a very sick patient in intensive care who many did not think would survive. We stubbornly kept trying and they miraculously survived. We are constantly reminded of the very delicate balance of life, quality of life and death.
Outside the extensive professional reading you are required to do, is there a genre or author that you like to relax to?
I don't have time to read for pleasure now – but I used to love science fiction. Now I enjoy reading with my son – we love this special time every night.
Regarding your work and patients, what is the one thing that puts a smile on your face?
Seeing a very sick patient and their families get through their darkest days and not only survive, but most importantly, thrive.

*************************************************************************************

Angeline's expertise includes echocardiography, management of acute and chronic heart failure, mechanical circulatory support both acute and particularly long-term ventricular assist devices and heart transplantation. She graduated from Monash University, Victoria. She completed cardiology training at Monash Medical Centre with Fellowships at the Royal Melbourne Hospital and The Alfred. She spent a year in Bougainville, Papua New Guinea as a doctor with Australian Volunteers International and returned to the Heart Failure & Transplant service at The Alfred, Melbourne in 2004 where she has remained since. She has particular interests in the long term management of patients with ventricular assist devices, and the transition of paediatric cardiology and heart transplant patients to The Alfred, with a dedicated Young Adult Heart Transplant Transition Clinic within the Heart Failure and Transplant service.

*************************************************************************************